Tour overview
Dayara Bugyal Trek Package
From Dehradun Only @6200/-* ​
From Raithal Only @4500/-*
Book Now
*GST Included – No Hidden or Extra Charges.
Explore Our Trek Dates
| | | | | |
| --- | --- | --- | --- | --- |
| Oct | Nov | Dec | Jan | Feb |
| 6 Oct | 3 Nov | 1 Dec | 5 & 6 Jan | 2, 3 Feb |
| 13 Oct | 10 Nov | 8 Dec | 12 & 13 Jan | 4 Feb |
| 20 Oct | 17 Nov | 15 Dec | 19 & 20 Jan | 9 & 10 Feb |
| 27 Oct | 24 Nov | 22 Dec | 26 & 27 Jan | 16 & 17 Feb |
| | | 29 Dec | 28 Jan | 23 & 24 Feb |
Know our Group Departure Dates Bellow.
Rental Equipment Available
(Trek Pole is Free)
Dayara Bugyal Trek Overview
Dayara Bugyal is one of the most beautiful alpine meadows and one of the largest in this region. It covers almost 28,000 square kilometers. There are many small water bodies, most of which are colorful. Dayara Bugyal is a scenic trekking destination located in the Indian state of Uttarakhand.
This trek takes you through the charming alpine meadows of Dayara Bugyal, which are located at an elevation of around 3,408 meters above sea level. The trail passes through dense forests of oak, pine, and rhododendron trees, offering breathtaking views of the Himalayan ranges including Bandarpoonch, Black Peak, and Srikanth Peak. The trek starts from the small town of Raithal, and the route is relatively easy and suitable for beginners.
Dayara Bugyal trek can be completed in 4-5 days, covering a distance of around 9-10 km per day. The trail is well-marked and has several camping sites along the way, making it a popular choice for camping enthusiasts. The best time to undertake the Dayara Bugyal trek is during the summer months of March to June and the autumn months of September to November when the weather is pleasant, and the views are clear.
You can go on this trek all the time. It's not only a seasonal trek but also an all-time trekking trek in Uttarakhand. Overall, the Dayara Bugyal trek offers a beautiful blend of natural beauty, adventure, and culture, making it a must-visit destination for trekkers and nature lovers.
About The Base Camp Raithal
Raithal is a small hamlet at an altitude of 2,240 meters 38 km away from Uttarkashi district. Uttarkashi is well connected by Govt and Pvt buses from Dehradun, Haridwar, Rishikesh, etc. Dehradun is the nearest railway and airport head. The small Village of Raithal has a GMVN guest house and some hotels.
There are also some homestays as well in the picturesque village. This place is excellent for bird watching because ground birds can be easily seen here and some old houses like Panchpura are 500 years old house and local culture! The major attraction of Raithal is the lovely views of some towering peaks like – Draupadi Ka Danda, Shrikhand Mahadev, Mt Jaonli,, and the Gangotri group of mountains.
Moreover, the trail snakes its way through verdant forests of Oaks, clear streams, and grasslands, offering the excellent sight of high Himalayan peaks. Direct cabs to Uttarkashi, Dehradun, Haridwar, and Mussoorie can be arranged.
This Village is well connected by road. Depending on the trekker's will we can arrange Sumo / Bolero-type vehicles from Dehradun to Raithal and back to Dehradun from Raithal. You pay the driver directly, which is to be shared equally by the availing trekkers. Price on an actual basis. One such vehicle can accommodate 6 to 8 people.
Why To Choose Dayara Bugyal Trek?
Before heading towards the itinerary, it is really essential to perceive the reason behind choosing the Dayara Bugyal trek. Firstly, the trekking distance is a total of 24 km which is to be covered in 6 days. Yet, it comes under easy to moderate level of hiking because of No high altitude mountain sickness due to the forthcoming of the forest region. And this is an easy level trek.
The trail is not that abrupt and sheer as compared to other treks. So, beginners can easily do this trek. You got to see the panoramic view of the Himalayan ranges, meadows, lakes, pine forests, and different varieties of flora and fauna surpassing through bona fide Garhwali heritage and culture Gangotri range. During the winter season, this fascinating Dayara Bugyal remains covered in snow and the white sheet of snow makes it look like a magical wide snowland. And, in summer, the valley turns totally different and amusing because of meadows, wildflowers, and woods blooming in different colors.
You Are Our Top Priority And We Want To Ensure Your Trek Is Safe And Enjoyable
At Mountain Hikers, we offer customized trek itineraries tailored to your requirements for a hassle-free trekking experience. For instance, our "Dayara bugyal" trek includes a drive from Dehradun to Raithal, a trek from Raithal to Gui, a Trek from Gui to Chilapada, a Trek from Chilpada to Nayata via Dayara Top and a Trek from Nayata and a drive back from Raithal to Dehradun.
Experience nature at its best
With our experienced guides by your side, you will have nothing but unforgettable hiking experiences while enjoying some of India's most beautiful mountain ranges. Safety first prioritizes safety above all else when it comes to our treks. Our experienced guides are trained in first aid.
Fitness Level Required For The Dayara Bugyal Trek
The Dayara Bugyal Trek is a moderate level of challenge, therefore it's suitable for everyone, regardless of fitness level. Many people find that they get stronger while on the trek, as they have to challenge themselves physically while also having to push their boundaries mentally. Before you begin your trek, it's important to warm up, so you're ready for the challenge that awaits.
Additionally, you should drink plenty of water and push yourself when necessary during your trek.
Why You Should Choose the Dayara Bugyal Trek Package
It doesn't matter if you're a seasoned traveler or a first-time enthusiast, you'll find that the Dayara Bugyal Trek offers something for everyone. In addition to the amazing scenery and sense of adventure, this trek also provides opportunities to engage with the local community and experience their rich culture firsthand. Thanks to its popularity, the Dayara Bugyal Trek is almost always in high season.
You'll be able to enjoy a less-crowded experience and experience all the beauty the area has to offer. Aside from being eco-friendly, the trek minimizes the impact of tourists on the community and environment. While the trek will undoubtedly be an unforgettable experience, it's also something you can do with your loved ones. With children and pets welcome, you can make the trek the perfect family trip.
What to Expect on the Dayara Bugyal Trek Package
The Dayara Bugyal Trek is a stunning journey through the Himalayan mountains of Uttarakhand, India. You'll travel along a 3-day trek, as you explore the area's many spectacular landscapes and meet the local community. Once you arrive at your destination base camp, you'll spend the night camping under the stars, surrounded by gorgeous views of the surrounding mountains.
On the next day of your trek, you'll explore the surrounding area, including Kedarnath Temple, the charming town of Rishikesh, and the picturesque Gaurikund. After exploring these areas, you'll head to your next destination, Dayara Bugyal. You'll spend the night here before returning to your starting point the following day.
Best Time to Go on the Dayara Bugyal
The best time to visit the Dayara Bugyal Trek is between mid-October and mid-March. During this time, you'll experience optimal weather conditions, as it's warm during the day and cool at night. Moreover, you'll also get to experience peak fall colors during this time. Rain is also expected during this period since it is the monsoon season. However, you can still enjoy the trek, as the trail will remain passable.
Snow covers the region between mid-November and mid-December, making for an ideal winter trek. Additionally, you can also enjoy the trek during the spring season, between mid-April and mid-May, when the area is still covered in snow.
Tips For A Successful Trekking for Dayara Bugyal
For an outdoor night, make sure you bring snacks, water, and small shelter items. Wear cozy clothes that you can change into when you are tired, along with cozy shoes that protect your feet.
In case you become fatigued and need to relax, pack lots of water and snacks. Although you will be walking for extended periods of time on your trek, make sure to drink enough water.
In case you need directions while on the path, make sure you have a smartphone or GPS device.
Ask a local for directions if you're unsure. Be respectful of the local people and the environment, while you enjoy the trek.
Cultural Experiences on the Dayara Bugyal Trek
The Trek gives you the opportunity to connect with the local community and immerse yourself in their rich culture, as you spend the night in your base camp. You can also enjoy a Shivanagar culture show, meet local artists and craftspeople, attend an evening social gathering, and participate in a yak feed. You can also take nature walks, birdwatching, boating, and more while living in Norway.
Safety measures to take on the Dayara Bugyal Trek
Always trek with a guide, as they ensure that you stay safe on the trail.
Always trek with a partner, as it's safer and more comfortable.
Always carry an adequate amount of meals and water with you, just in circumstances you feel hungry or thirsty.
Wear sturdy shoes and a long skirt/trousers that protect your feet, while you walk through the mountains.
It's really vital to have a first-aid kit with you when you go hiking to be prepared for any medical and emergency problems.
Ensuring that you are well-hydrated is crucial since you'll be walking for extended periods throughout your trek.
The Dayara Bugyal Trek allows you to experience an exhilarating adventure in the breathtaking Himalayan mountains.
Trek Essentials
We would provide you with tents, sleeping bags, mattresses, and a few things like gaiters, and micro spikes wherever required.
Personal clothing and equipment are your own and we don't have any renting facility.
Also, renting any of these items is impossible once you reach the trek base.
Four things are a must for any Himalayan Trek. These are personal items and you need to bring your own.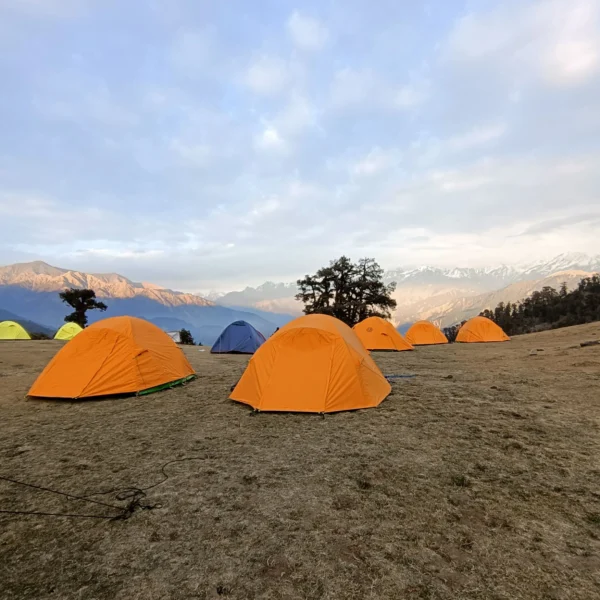 Safety Tips For Dayara Bugyal Trek
We take a lot of pride in providing the best safety standards to its trekkers while trekking along with supporting sustainable tourism. Experienced Trek Leaders will be leading the group with a full-fledged first aid kit along with an oxygen cylinder.
The Trek Leaders will also be carrying medication pertaining to high altitudes. Our Trek Leaders are experienced mountaineers and we trust their judgments. If during the trek, the Trek Leader advises you against continuing on the trek, we request you to respect his judgment and follow his instructions.
Please be informed that trekking is an adventure activity and a lot depends on the weather conditions in the mountains. In case of bad weather or health issues for any trekker at any point during the trek, the trek itinerary will be changed by the Trek Leader after evaluating all the available options.
We make sure that our trekkers are informed at all times and a common consensus is arrived at after discussing with the participants, however, the decision of the Trek Leader will remain final. Also, in case of any unforeseen circumstances like landslides or bad weather, we promise to provide services only for 7 days. It will remain the responsibility of the Trek Leader to get the trekkers back to safety irrespective of the number of days, however, the cost will be borne by the trekkers themselves.
Please be clearly informed that we are committed to providing a safe, secure, and magical experience in raw nature, and hence, smoking, drinking, and littering are completely prohibited during the trek and on the campsites. People found to be indulging in any of the above activities will be abandoned by the group.
FAQs
What is the best time to go for the Dayara Bugyal trek?
Full of the year is the best time to go for the Dayara Bugyal trek. During this time, the weather is pleasant and the trekking conditions are favorable.
What is the duration of the Dayara Bugyal trek?
The Dayara Bugyal trek is a 4-day trek covering a distance of approximately 9 km.
What is the level of difficulty for the Dayara Bugyal trek?
The Dayara Bugyal trek is a moderate-level trek, suitable for beginners as well as experienced trekkers.
What is the maximum altitude reached during the Dayara Bugyal trek?
What is the approximate cost of the Dayara Bugyal trek?
Included
One night's accommodation at Raithal in a homestay/lodge on sharing basis and dinner.
All meals during the trek. Regular Indian-style nutritious vegetarian food during the trek, breakfast
Packed/hot lunch (depending upon the time you reach a campsite), snacks, dinner along with Coffee/Tea/Soup.
Excellent Mountain Guide who will be a local to this particular area and has profound knowledge of t he trekking trails around.
Specialized Cook, Support Staff, and Porters/ Packed Animals for carrying the central logistics of the trek.
All permit fees, camping charges, and forest levies required for the trek.
Stay in a rest house/forest hut/tent as required in the trek.
Sleeping mattress and Sleeping bag (If you have a personal high altitude specific bag, bring your own for hygienic reasons).
Micro Spikes / Crampons and Gaiters if needed.
Basic First Aid and Medical Kit.
Medical insurance during the trek.
Not Included
Transportation cost from Dehradun to Raithal and back to Dehradun.
We assume you will carry your personal Rucksack / Backpack with all your belongings. If you want to offload your Rucksack and be carried by our Pack Animal / Porter, you need to pay an additional @ 1000/- for the entire trek duration. The Rucksack should not weigh more than 10 Kg.
Any tip/gratuity to the HT support staff. If you are happy with the service, please tip them generously.
Any cost which is not mentioned in the "inclusions" or personal in nature.
Dayara Bugyal Trek Itinerary From Dehradun to Dehradun ₹6200 Only
Day 1: Dehradun to Raithal
The adventure begins as you depart from Dehradun and make your way to Raithal, the starting point of this mesmerizing trek starts with a great sightseeing like kimadi fall.
Dehradun Arial view from hatipaon, Mussorie, Shivalik range(lesser himalya)view from suwa kholi, himalyan range(basically gangotri glacier) from moriana top.
A maneri jheel or waterfall. Raithal offers a scenic landscape filled with lush green meadows and towering Himalayan peaks. Take in the awe-inspiring views and immerse yourself in the tranquility of the surroundings as you settle into your accommodation for the night.
Day 2: Raithal to Goi Lake
After a healthy breakfast, you embark on your trek to Goi Lake. This picturesque lake, nestled amidst the grandeur of the Himalayas, is known for its crystal-clear waters reflecting the surrounding snow-clad peaks. As you ascend through pristine forests and verdant meadows, the views become increasingly breathtaking.
Capture the beauty of the Himalayan flora and fauna along the way. Arriving at Goi Lake, you will be captivated by its serene ambiance.
Spend the night camping near the lake, indulging in stargazing and sharing stories around a cozy bonfire.
Day 3: Goi Lake to Dayara and Back to Goi Lake
On this day, you have the option to explore the stunning Dayara Bugyal, a high-altitude meadow known for its sprawling green pastures and panoramic vistas. After a short hike from Goi Lake, you reach Dayara, where you can revel in the enchanting beauty of the meadows. Surrounded by majestic peaks, this meadow is a sight to behold. Spend some time exploring the area, soaking in the tranquility, and capturing incredible photographs.
Afterward, return to Goi Lake for another night of camping amidst the pristine natural surroundings.
Day 4: Goi Lake to Dehradun
As the trek comes to a close, you descend from Goi Lake and make your way back to Dehradun. Cherish the memories of the incredible landscapes, the rugged trails, and the serenity of the Himalayas as you bid farewell to this unforgettable trekking experience.
Arriving in Dehradun, you can reflect on your journey and perhaps extend your stay to explore the charms of this historic city.
Customized Itinerary From Dehradun to Dehradun ₹8500 Only
DAY 1 - Drive from Dehradun to Raithal
Your journey begins with a drive from Dehradun to Raithal, a small village in the Uttarkashi district. The scenic drive takes you through the picturesque towns of Uttarkashi and Gangotri providing breathtaking vistas of the majestic Himalayan peaks adorned with snow. You will reach Raithal by evening and spend the night at a guesthouse.
DAY 2 - Trek from Raithal to Gui
The trek starts from Raithal and takes you through dense forests of oak and rhododendron. You will come across several streams and waterfalls on the way. The trek to Gui is a gradual ascent and takes about 5-6 hours. The village of Gui boasts breathtaking views of the Himalayas that are absolutely breathtaking. You will spend the night at a campsite in Gui.
DAY 3 - Trek from Gui to Chilapada
The trek from Gui to Chilapada takes you through lush green meadows and dense forests. A stunning panorama of the Himalayas will surround you during the trek. Chilapada is a beautiful camping site located at the base of the Dayara Bugyal meadow. You will spend the night in tents in Chilapata.
DAY 4 - Hike from Chilpada to Nayata via Dayara Top
The trek from Chilpada to Nayata takes you through the enchanting Dayara Bugyal meadow. You will pass through sprawling meadows dotted with wildflowers and streams. The highlight of the trek is the Dayara Top, which offers breathtaking views of the surrounding Himalayan peaks. You will descend from Dayara Top to Nayata, where you will camp for the night.
DAY 5 - Trek from Nayata to Raithal
The trek from Nayata to Raithal takes you through dense forests and meadows. You will come across several streams and waterfalls on the way. In Raithal, you can take in stunning Himalayan views. You will spend the night in a guesthouse in Raithal.
DAY 6 - Drive from Raithal to Dehradun
The trek comes to an end as you drive back to Dehradun. The drive takes you through the picturesque towns of Uttarkashi and Gangotri. You will reach Dehradun by evening.