Tour overview
Kedarkantha Trek – A Summit Top at an Elevation of 3800m in Uttarakhand Himalayas
On the off chance that you need to do a Kedarkantha Journey with a nearby trekking organisation at that point welcome Himalayan Climbers Group. We treat our trekkers like a family and we have the Foremost lavish and costly inn and homestay in Sankri just like the Amazing Shiva lodging or Swargarohini Inn for your sumptuous remains and camping remain counting with the journey. The journey course is Sankri, Juda ka Talab, Kedarkantha Base Camp, and Hargaon Camp, and we too give scrumptious nourishment each day 4 to 5 times to our trekkers. We have an experienced Direct, Cooking Group, Aides, and Transport are continuously prepared to serve you.
Kedarkantha Trek could be a lovely winter journey in Uttarkashi Uttarakhand, India
Kedarkantha Trek Highlights
Encounter the captivating appeal of the Kedarkantha Journey through its exceptional highlights:
Charming Snowscapes:
The Kedarkantha journey stands eminent for its charming snow-covered scenes, giving a really mesmerizing vista of the magnificent Himalayan crests.
Pointing for the Summit:
Set out on a journey that includes an exciting climb to the Kedarkantha top, towering at an amazing rise of 12,500 feet.
All-encompassing Sees:
Reach the summit to delight in all-encompassing sees of the neighboring crests, a dazzling show that incorporates Swargarohini, Bandarpoonch, and Kalanag.
Campsites of Tranquility:
Find the trek's most awe-inspiring camping destinations, where you'll be able to savor the tranquillity of a night underneath the twinkling stars.
Submerged in Neighborhood Culture:
Navigate through conventional towns of the Uttarakhand locale, picking up a quick glimpse into the neighborhood culture and way of life.
Direct Challenge:
With a direct level of trouble, this journey is reasonable for both amateurs and prepared trekkers, advertising a satisfying encounter for all.
City Availability:
Effortlessly available from major cities like Delhi, the Kedarkantha journey serves as a prevalent end-of-the-week elude for experienced devotees.
Juda ka Talab:
A diamond inside the Kedarnath Natural Life Haven in Uttarakhand, India, brags these striking qualities:
Normal Splendour:
Look upon the peaceful lake wrapped by the magnificent Himalayas, treating your faculties to vistas of snow-capped crests and rich verdant timberlands.
Trekking Experience:
Get to the lake through a direct journey from Sari, a charming town known for its pleasant apple plantations and thick oak forests.
Night Beneath the Stars:
Various campsites close to the lake call, welcoming you to spend nights amidst the stars and loll within the serene vibe of the wilderness.
Avian Ponders:
Juda ka Talab could be a sanctuary for uncommon winged creature species, counting Himalayan monals, snow pigeons, and koklass fowls, heaven for winged creature devotees.
Wealthy Biodiversity:
The lake is grasped by thick timberlands gloating rhododendron, oak, and deodar trees, advertising an asylum for a natural life-like musk deer, bharal, and panthers.
Otherworldly Importance:
Local people hold the lake in veneration, crediting its centrality to the epic Mahabharata.
In pitch, the Kedarkantha journey typifies experience, characteristic splendor, and social inundation culminating in concordance.
Find the Charm of Kedarkantha Trek – The Head Winter Undertaking
Set out on a trip to the heart of Uttarakhand, India, where Kedarkantha Journey rules as the exemplification of the winter experience. This path, eminent for its charming snow-covered scenes, stands as a trademark within the domain of trekking and climbing. What makes the Kedarkantha journey genuinely exceptional is its uncommon vantage focus, showing a panoramic canvas of the whole mountain scene. Nowadays, Kedarkantha holds the regarded position of being the preeminent journey of Uttarakhand's Himalayas, venerated by both enthusiasts and prepared explorers alike.
Encompassed with the radiant excellence of Kedarkantha, you'll discover comfort in seeing the captivating display of dawn and dusk against the scenery of this mind-blowing field. The journey itself, a classic winter journey, spreads out a modern feature of nature's wonders, beckoning trekkers to produce associations with the untouched scenes and to inundate within the substance of life in inaccessible Garhwal Himalayan towns. Kedarkantha Journey, a concordant mix of fortifying investigation and quiet town life, welcomes you to form recollections and set out on a transformative trip through the grasp of the flawless Himalayan wilderness.
Ideal Snowy Period for Kedarkantha Trek
The enchanting spectacle of snow-draped landscapes on Kedarkantha Trek unfolds annually, with snowfall gracing its expanse from mid-November onwards. This snowy veil often descends in the serene embrace of December, marking it as a splendid time to immerse yourself in the wonderland that unfolds.
For the ultimate winter wonder experience, January and February reign supreme as they witness the pinnacle of Kedarkantha's snowfall. During these months, a pristine white tapestry envelops the entire trek, transforming it into a captivating snow-laden sanctuary.
The season of snow extends its magical touch from December all the way through to the end of March. This expanded window changes Kedarkantha Journey into a really one-of-a-kind winter endeavor, welcoming travelers to savor the appeal of snow-covered scenes.
However, the pinnacle of this snowy enchantment lies in the frozen lake known as Juda ka Talab, a local treasure nestled at our first campsite. Amid winter's grasp, this lake experiences a mesmerizing change, totally solidifying over and giving an enchanting confirmation to nature's imaginative touch.
Kedarkantha Trek Mountain Range: A Photographic Marvel
Nestled in the Uttarkashi district of Uttarakhand, the Kedarkantha Trek unveils its splendor amidst picturesque landscapes. Embarking from the charming village of Sankri, situated within the embrace of the Govind Wildlife Sanctuary National Park, this journey promises a captivating experience.
Sour Village captivates with its snow-clad mountains and the glistening Tons River meandering through its heart. Once you set foot here, a magnetic charm will undoubtedly beckon you time and again, as the beauty of this place is simply irresistible.
Sankri, graced by its hilly background and fortifying climate, offers a delightful environment. The houses, embellished with wooden charm, ooze a curious charm that's both charming and captivating.
Sankri, graced by its hilly background and fortifying climate, offers a delightful environment. The houses, embellished with wooden charm, ooze a curious charm that's both charming and captivating. As you investigate Acrid Town, you'll discover embroidered artwork of conventions, fairs, and ceremonies, where local people wear conventional clothing and savor bona fide cooking. The locale comes alive with society moves like Naati, Raas, and Taandi, giving both amusement and a social scene.
Climbing to an elevation of 3800 metres, the Kedarkantha journey uncovers its one-of-a-kind including: the triangular shape of Kedarkantha Mountain, including an additional layer of investigation to the travel. On the 15th of June each year, a terrific reasonable takes center is organized in Kedarkantha. This lively occasion could be a celebration of devotion to Shiva and Ganesha, alluded to as "Meru Bagwan" within the neighborhood lingo.
Kedarkantha stands as a sacrosanct journey for us, where we honor Ruler Shiva and Ganesha every year. The 15th of June marks a critical event, as individuals from different towns meet to witness this dynamic reasonably, followed by nearby music and the cadenced beat of drums.
The Sight from the Top of Kedarkantha Trek
The special thing about the Kedarkantha trek is that you can see the most beautiful mountain range of the Himalayas from here too. What is Swargarohini Peak – I. You can see several mountains from this place, including Swargarohini Peak – II, III, Black Peak, and Bandarpunch Peak. Other mountains like the Rupin Pass range, Supin range, Khimloga Peak, Baraadsar Lake range, Vishkhopri range, and Ranglana Peak are also visible from here.
From this place, you can easily see all the treks in Har Ki Dun Valley and Ruinsara Valley such as Bali Pass, Borasu Pass, Sarutal, and Fachu Kandi Pass Trek. You can see all the trips from one trip.
Best Time to Go For Kedarkantha Trek
The Kedarkantha Trek is a great adventure that you can enjoy throughout the year, but it is especially exciting during the winter months. If you are looking for peace and comfort in these beautiful mountains, now is your opportunity.
Going on the Kedarkantha trek allows you to learn about the lives of people who live in faraway places. This is an opportunity to understand the core of their everyday life. In these beautiful places, you'll find more than just things to do. You'll also feel a deep calm and happiness that everyone desires.
Age Eligibility for Kedarkantha Trek: Embrace the Adventure at Any Age!
When it comes to the age range for enjoying the Kedarkantha Trek, our belief is simple: from 5 to 60 years old, everyone is welcome! Whether you're drawn to the summer sun or the winter wonder, this trek accommodates all seasons.
For the invigorating Winter Trek, we recommend it for individuals aged 10 to 55 years.
The Kedarkantha trek can be comfortably completed in 5 nights and 6 days, starting and concluding in Dehradun. For those with tighter schedules, fear not – a condensed 4 nights and 5 days option, also from Dehradun to Dehradun, allows you to experience the trek's essence without compromising on time.
Kedarkantha Trek Package: Where Winter Magic Unfolds – Uttarakhand's Premier Trek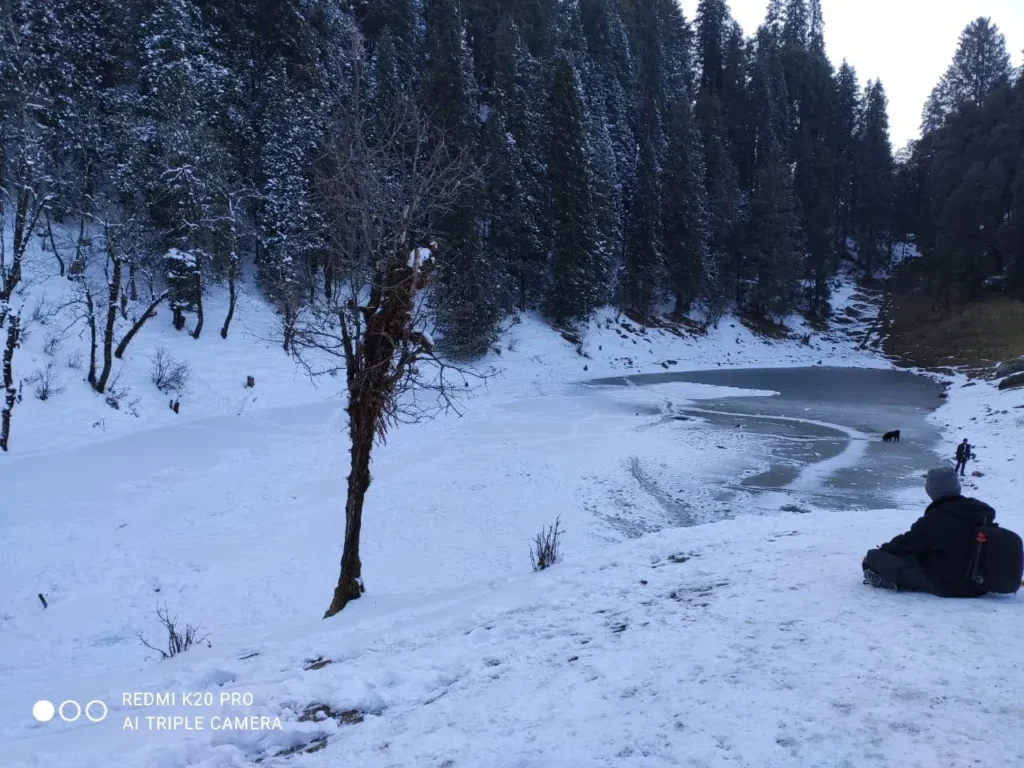 Kedarkantha is one of the most popular winter hikes not just in Uttarakhand, but also throughout the world. As the snow covers the land during winter, Kedarkantha stands out as a very beautiful place.
There are green lands, flowing waters, and dense forests that are very calming and breathtaking to see. A stunning and significant sensation is created by the snow-capped mountaintops standing tall in front of the green forest.
The transition from emerald forests to winter's white wonderland is akin to stepping into a picturesque Swiss landscape. This is where Kedarkantha excels since it welcomes trekkers of all skill levels, including beginners and young children. As you traverse the forested paths, you're treated to the endearing sights of traditionally attired villagers gathering fodder for their livestock. Amidst this natural canvas, you'll encounter a variety of trees including pine, oak, and rhododendron.
It's a world painted in snow, adorned with snow-capped peaks, meandering river rivulets, and the symphony of birdsong. As you reach the Sankri market base camp, you step into a realm of tranquillity and charm. The small market in Sankri, which is home to a wide variety of shops, is a shoppers' paradise. The plethora of hotels and homestays provide respite for the night, recharging you for the journey ahead.
Winter in Kedarkantha brings forth the joys of crafting snowmen, playfully sliding on snow, and engaging in friendly snowball fights.
Gazing at the moon from the Sankri base camp, it appears tantalizingly close, almost within reach. Sunrise at Sankri is a spectacle as the sun's golden rays usher in a new day, greeting you with warmth and hope. The passing of each day here feels almost imperceptible, reaffirming that living amidst this wonder is truly a gift. Trekkers often express their wish to remain nestled amidst these mountains forever, and while the sentiment is understood, the answer is simple: the allure of urban comforts would dim the untouched beauty that defines these mountains.
To be a "Pahadi," a dweller of the hills, is a source of joy and gratitude.
Kedarkantha Base Camp
A pond is like a big bunch of hair. These things can be seen during the summer when there is no snow in this place. I can't see it in winter because the snow covers it completely. The Juda ka Talab camp is amazing. It has dense forests and a beautiful Bugyal in the middle, which is why it is known as a camp. Kedarkantha Base Camp is a lovely grassland area. The Kedarkantha Base Camp is located in an open area where you have a clear view of the starting point of Kedarkantha Peak.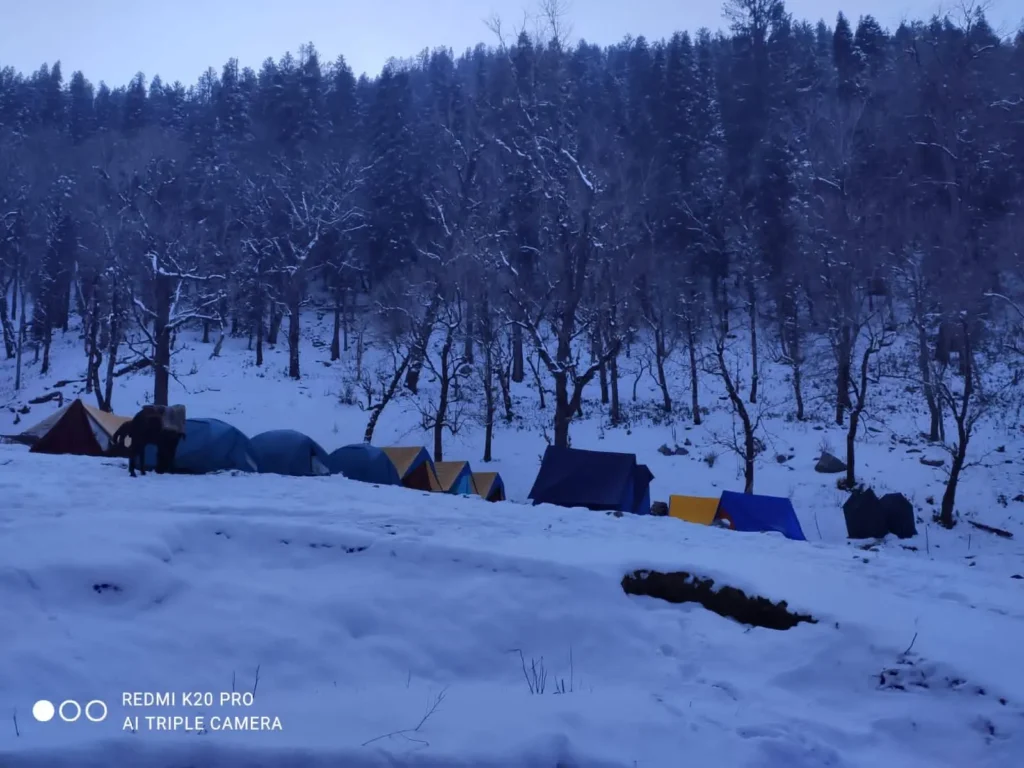 The Kedarkantha Base Camp is a large camping area on this trek. It is the starting point where you can see beautiful views of the entire Himalayas. It's really enjoyable to stay overnight here.
Why You Should Go For Kedarkantha Trek With Kedarkantha Trek Package by Mountain Hikers?
Yes, the Kedarkantha trek is very secure and there is no need to worry about safety. All of our knowledgeable team members work diligently to ensure hikers have an incredible experience.
The Kedarkantha Trek is a hiking trail in our village that we have been doing for many years. It was first done by the Himalayan Hikers group in 2003 for the children of Woodstock School in Mussoorie. After that, it has become really liked by many people here. In winter, the weather is usually cold and people tend to stay indoors more.
Included
Transport - Sankari To Sankari
Permits and Fees
Accommodation
Delicious Meals
Quality Camping Gear
Hygiene Facilities
Dining Area
Support Staff
Communication
Experienced Guides
Health and Safety
Gear for Challenging Terrain
Not Included
Personal Trek Insurance
Meals on Specific Days
Transportation cost from Dehradun to Sankari and back to Dehradun.
Any cost which is not mentioned in the "inclusions" or personal in nature.
Any tip/gratuity to the HT support staff. If you are happy with the service, please tip them generously.
Day 1: Dehradun to Sankri
Your exciting journey begins with a pickup from Dehradun Railway Station, followed by an approximately 8 to 9-hour drive to Sankri, the base camp. Covering a total distance of 210 kilometers, the mode of travel is by taxi. Sankri's base camp sits at an altitude of 1920 meters, and your night stay is arranged at the Swargarohini Hotel on a twin-share basis. Himalayan Hikers provide transportation from Dehradun Railway Station starting at 6:00 a.m. in the morning. and 7:00 in the morning.
Day 2: Sankri To Juda Ka Talab
Greet the serene morning surrounded by mountains and enjoy a peaceful atmosphere. Have a nice hot cup of coffee or tea at 6:00 am, and then enjoy a delicious breakfast at 7:30 am. The day's trek starts on foot from Sankri to Juda Ka Talab, spanning a distance of 5 kilometers and taking approximately 4 to 5 hours.
The altitude at Juda Ka Talab is 2700 metres. Tonight, you'll camp in tents on a twin-share basis amidst the captivating natural surroundings. Along the way, you'll witness stunning peaks, charming Saur village, lush forests, Himalayan birds, and cascading waterfalls, and eventually reach the captivating Juda Ka Talab, a picturesque lake.
Day 3: Juda Ka Talab to Kedarkantha Base
Wake up to a breathtaking view, as the scenery might have turned white due to snow or bathed in sunshine. Drink something hot, eat breakfast at 7:30 in the morning, and leave between 8:30 and 9:00 a.m. Today's trek spans 3.5 kilometers, lasting 2 to 3 hours, taking you to the Kedarkantha base camp at an altitude of 3200 meters.
As you venture through dense forests and open meadows, you'll be greeted by the splendid sight of the Kedarkantha peak. Lunch will be provided, and in winter, additional briefing and equipment will be given for safety.
Day 4: Summiting Kedarkantha and Descending to Hargaon Thach
Today is the most crucial day of your adventure. Begin your ascent to the Kedarkantha Summit at 4:30 a.m., witnessing a mesmerising sunrise from the peak. A light breakfast will energise you for the trek, and under professional guidance, the journey to the summit, which is around 1.5 kilometers, will be both exciting and rewarding.
At 3800 meters, the panoramic view of the Himalayan peaks and the Lord Shiva and Ganesha temple will leave you awe-inspired. After enjoying the view, descend down, experiencing the thrill of sliding part of the way down. The night will be spent at Hargaon Thach, where you'll camp in tents.
Day 5: Hargaon to Sankri: Descending to Sankri and Reflecting
On this day, your trek descends from Hargaon to Sankri, covering a distance of 5.5 kilometres in around 4 to 5 hours. As you go down, enjoy the pretty views and go past apple farms. Once back at the Sankri base camp, a comfortable stay awaits at the Swargarohini Hotel on a twin-share basis. Savour this last night in the mountains, cherishing the memories you've made.
Day 6: Returning Sankri to Dehradun
The final leg of your journey involves an approximately 8 to 9-hour taxi ride covering 210 kilometres, taking you from Sankri back to Dehradun. This marks the end of the adventure with Himalayan Hikers. Enjoy a final breakfast with the team, receive your certificates, capture memorable photos, and bid farewell to Sankri.
Google Maps API Key is not set. You can add your Google Maps API Key under Easy Tours > Settings options panel. If you do not have one yet then create by clicking here.